---
---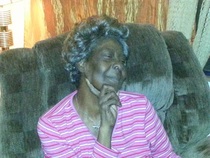 FOSTER, ELIZABETH LEE
age 70, passed February 17. 2014 at Heartland Rehabilitation of Kettering. Born December 7, 1943 in Seaborne, WV to Allen and Classie Williams Foster. Preceded in death by parents; brothers, Jack Williams and David Foster and 1 grandchild. Survived by sons, Josephus Foster, David Allen (Irene) Foster, Cecil A. (Solona) Foster, Earl B. Foster and Roy Turner all of Dayton, OH; Charles. L. Foster of Springfield, OH and DeMarco Foster of Middletown, OH; daughters, Stephanie (John) Williams, LaToiua Foster, LaTonya (Rick) Merrida, Erica ( Frank) Smith all of Middletown, OH and Kimberly Walker of Dayton; brothers, Sampson Williams of Silver Springs, MD and Josephus (Claire) Foster of Columbus, OH; sister, Rita McCummins of Dayton; 24 grandchildren and 23 great grandchildren. Service of memory Friday, February 28, 2014 11:00 a.m. at Bowman & Young Funeral Chapel 2060 Germantown St., Rev. Josephus Foster, officiating. Family will receive friends 10 a.m. until time of service. Interment Green Castle Cemetery.
| | |
| --- | --- |
| Click the button to generate a printable document containing all condolences submitted | |
Sonja McLaughlin

Posted Tue February 25, 2014

Hi Darnel, so sorry for your and your family loss, but what a wonderful legacy she has left w/ her children and grandchildren, and rest of family. I'm sure you will find comfort and support together.